Are you interested in booking us for one of our courses or seminars?
weekend course / weekly course
Handling course for table dogs
A one- or two-day course with approximately 4 hours each day. The course is often held over a weekend (Saturday & Sunday) and contains both theory and practice. This course is suitable for dogs that are judged on the table, if you have a larger dog breed, we recommend our Introduction of handling course instead.
More about the course
Simply standing your dog on the table is not good enough. In today's show ring it is expected that your dog should perform on the table. This is not so natural for many dogs as the table and formal examination from the judge can be a very intimidating place. Through years of experience YOUR DOG SWEDEN have developed many technics to help turn your dog in to a table star. All methods are positive using a combination of target and marker training. The brilliance is in the details!
Day 1
The weekend starts with theory and an explanation of the philosophy to ensure that we are all on the same page. Plus, it is an ideal opportunity to introduce and explain the benefits of target and marker training.
Like all aspects of training – training the dog to show effectively on the table requires time. We have developed a unique way to not only get excellent choreography but to actually help the dog to love to show on the table. The basic introduction to showing your dog on the table requires four foundation steps. These four steps are explained, demonstrated and then trained for every dog in the class. We will always create time for individual questions, concerns and needs.
Even dogs that are very insecure with the table or the judge's examination, these technics often have a very positive effect.
Day 2
Even this day starts with theory where we have the opportunity for you to ask questions regarding your new found skills.
Competition time
To be a consistent winner you need to think like a winner. Gerard and Ia explains the tactics needed to create a strong competitive edge in the ring. And then to transfer those values to the table. The second day includes even more time for individual questions, concerns and needs.
Finishing with a little more theory and tips regarding effective homework
The goal is to create a positive relationship between you and your dog.
So, your dogs can reach their highest potential.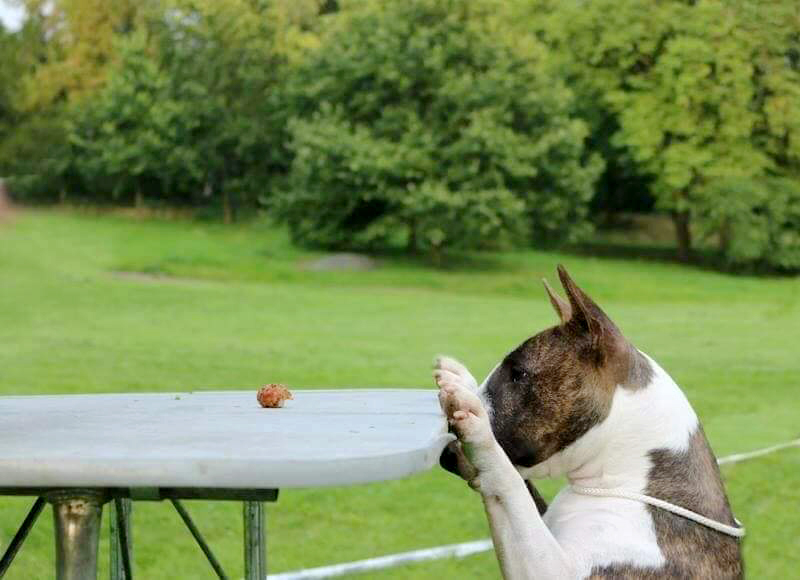 Practical information
Weekend course (Sweden and international)
Days: 1-2 days (often held over a weekend, Saturday & Sunday)
Time: 3-4 hours per day
Place: See schedule
Price: See webshop, for a whole weekend (coffee is included, you bring your own lunch)
Weekly class (only Sweden)
Days: 4 occasions
Time: 1 hour per occasion
Place: See schedule
Pris: 2.250 SEK
Maximum number of participants (dogs): approx. 25
Females in season: females in season are not allowed to participate
Dog age: from 4 months
Equipment: The dogs must wear collars, not harnesses.
Tip! Bring a hungry dog and good soft candy, preferably whole meatballs.
It is also possible for you, your club or kennel to arrange this lecture. See contact us for more information. The lecture can be held for you as a private person or smaller and larger groups.